[UPDATE: Due to the massive Tumblr ban on adult content in late 2018 many of the  artists featured in this post are no longer able to make their content free and accessible. While perusing this post, which is now mostly useless, you may find links to previous furry sex comics that are now a jumbled, hyper-censored mess, or, gone entirely. This is what happens when sex and sexuality is censored under regressive policies. Thanks, Tumblr…]
Right off the bat, as a queer and enby trans person, I just want to say to any and all self-identified crossdressers, femboys, sissies, traps, etc. out there: your experiences and motivations are valid. You are worthy and this blog will always be as safe and welcoming a place to you as it is for queer and trans folk as well. While I do hear a lot of the criticism over how femboy, sissy, and trap porn creates harmful perspectives of trans people, I feel that interest in those activities, even if it just for sexual gratification, is in no way a threat to my existence. I refuse to further stigmatize those who partake in feminization and crossdressing simply because the ignorant masses are unwilling to educate themselves on gender expression, identity, and diversity.
Just please, don't use transphobic slurs in your public posts on your sex Tumblrs, or whatever.
One more time for those in the back:  crossdressers, femboys, traps, etc. are valid and NOT a threat to, or an enemy of, the queer and/or trans community. There are enough divides among us; let's not perpetuate violence and ignorance toward each other.
Now, onto the porn! The comics below all feature one or more super cute, and sexy, furry femboys as their leads. I love these ones in particular because they do not conflate femboys with trans people, nor do they use any transphobic terminology. Also, they're hot as fuck, so, yay!
---
Cross Platform [by Onta]
Marty is gaming with his friend Jesse, while their friend Mu watches. When smack talk develops between Marty and Jesse, their egos quickly lead to them making a big bet: whoever loses next has to put on Jesse's sister's clothes and be slave to the other for the rest of the day. Poor Marty, of course, loses and a deal is a deal. But nobody anticipated just how sexy as fuck he would end up looking in those tight fem clothes…
Seriously, this has been, like, my go to, favorite, furry porn comic for months now. The art is outstanding, Marty looks so fucking banging in that skirt and tight tank top, and the quick threesome scene, complete with double blowjobs, double penetration, and gloriously messy cumshots, make it hard to pass up. Plus, at just under 20 pages it's a great read for a quick 'bating session.
If you dig this, be sure to also read A Good Thing and Projections, two other furry porn comics from Onta featuring Marty and Jesse having hot sex.
Arcana Tales Chapter 2

[LINK BROKEN DUE TO TUMBLR PORN BAN] 
Chapter 2 is a great jumping on point. It follows Kit, a young, femboy, cat thief, as he travels with his new friend Rufus, a buff warrior bull. Making their way into a large city, Kit is curious as Rufus seems to be hiding something. The two find themselves at the door of Miss Mila, a renowned alchemist who Rufus hopes will help cure him of the intense, blinding, lust crazes that sometimes overwhelm him. Unfortunately, this requires Kit to gather a sizable sample of cum from Rufus' monster cock. Win for us, though!
For more incredibly hot fembody art and comics, follow both

Powfooo

and

Chinpo

on their Tumblr blogs!

[LINKS BROKEN DUE TO TUMBLR BANNING ALL ADULT CONTENT

]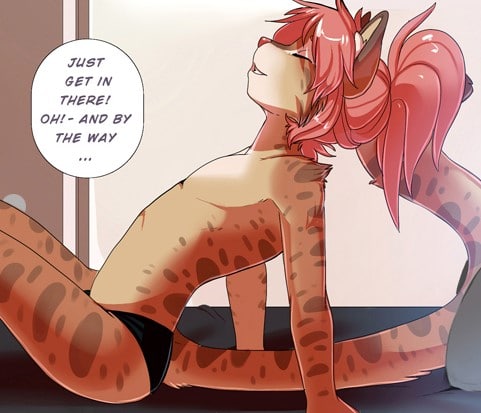 Table For Three [by Ace]
It's Ben's birthday so his wife, San, has surprised him with an incredible gift… her adorable femboy friend Avery is in their bed, half naked, waiting to fulfill Ben's every sexual fantasy and desire. Of course, San can't sit out for long so after Ben goes round-one with Avery, she joins joins in for a double blowjob before getting spitroasted by the duo of cocks.
If you like this one, Avery also enjoys some nerdy, high-fantasy, sexy times in Critical Success.
Some Things Never Change [by Tokiguji]
Sora is walking through the mall window-shopping when he bumps into his old friend Jang, who is cross-playing [cosplaying as a character of another gender] as the sexy Anti Angel Kuru-Ruta (I don't know either… just go with it). After a passionate embrace, the two sneak off to "catch up" with each other… which in this case means some sloppy deepthroating, frotting, cock riding, and cum swallowing, fun.
If this really did it for you, find more from Tokifuji at

T

okifuji-Art

and

Tokifuji Comics

. [LINKS BROKEN THANKS TO TUMBLR'S SEX AND SEX CONTENT BAN]
Double Date [by Hoshi]
Mandy gets stood up by her boyfriend for their lunch date at a local dinner. Lucky for her, she has the perfect way to vent her frustration and get revenge on her ditching boyfriend… by getting face fucked and double penetrated by the two super cute femboy waiters on shift, Whitney and Sheepy.
Check out more great sketches, drawings, and comics on

Hoshi's Art Blog

. [LINK ALSO BROKEN… CAN YOU GUESS WHY?]
And be sure to check out 4 More Awesome Hardcore Furry Femboy Comics for more great furry porn!
[DON'T BOTHER, THE TUMBLR SHITSHOW RUINED ALL OF THOSE LINKS TOO.]