[UPDATE: Due to the

massive Tumblr ban on adult content in late 2018

many of the  artists featured in this post are no longer able to make their content free and accessible. While perusing this post, which is now mostly useless, you may find links to previous furry sex comics that are now a jumbled, hyper-censored mess, or, gone entirely. This is what happens when sex and sexuality is censored under regressive policies. Thanks, Tumblr…]
If you read and enjoyed my first post on femboy furry sex comics back in December, and you've been craving some more hella hot porn art featuring furry crossdressers, traps, sissies, and futas than this one is for you!
Once again, I'd like to reiterate to any and all self-identified crossdressers, femboys, sissies, traps, etc. out there: your experiences and motivations are valid. You are worthy and this blog will always be as safe and welcoming a place to you as it is for queer and trans folk as well.
If you are a reader who is unsure of any of the terms utilized there than I would like to encourage you to read my post A Case for Traps, Sissies, Femboys, and crossdressers.
Now, onto the porn! Just like last time, the comics below were chosen because they feature one or more super cute, and sexy, furry femboys as their leads. They also do not conflate femboys with trans people, nor do they use any transphobic terminology. Plus they are hot as FUCK, ya'll. Just saying…
---
Friends With Benefits by Tokifuji
[ALL THE LINKS TO THIS COMIC AND ARTIST ARE NO LONGER REACHABLE DUE TO THE TUMBLR PORN & NUDITY BANS]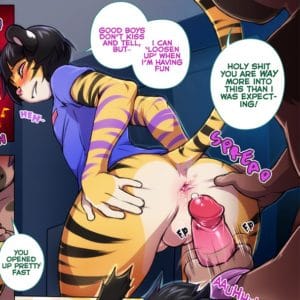 Read it right on Tokifuji's Tumblr blog here: Part 1 – Part 2 – Part 3.
This is actually the direct follow up to Some Things Never Change, shared in the last post on femboy furry comics.  While Sora and Jang are off banging each other in the V.I.P room of that cosplay/gaming store BK, Jang's cute tiger femboy coworker, goes tot he security room where he ends up watching them on security cam. Clancy, the handsome store security guard, catches BK being a voyeur to the scene and joins in taking a look. Naturally, it doesn't take long before some casual voyeurism, flirting, and BK suggestively eating a chocolate bar before it is straight into the sloppy cock sucking, cum drinking, butt fucking, and handjobs.
As a bonus, and teaser to the next comic, the story ends with BK dressed up as a SUPER cute, femboy Link from Legend of Zelda as Sora and Jang return to pine over him. YAY!
Be sure to also check out this 2-page one shot comic, Pet Treats, from Tokifuji featuring a cute femboy snake and bunny furry pleasuring their master.
Beta Behave by Tanksi
[LINKS TO THIS COMIC & ARTIST ARE DEAD DUE TO TUMBLR BANNING ADULT CONTENT]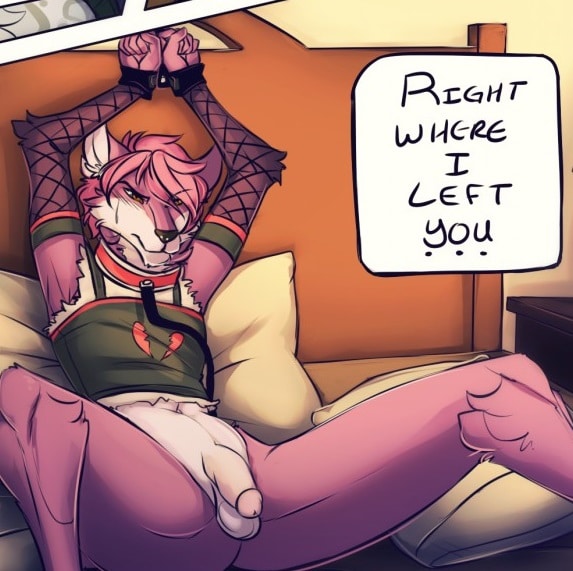 Read the whole comic in a two part Tumblr post: RIGHT HERE.
This one is actually a direct follow up to another comic called Alpha Knows Best. However, unlike it's predecessor, Beta Behave features some hardcore crossdressing and feminization play. Novus comes home to find his partner Adrian exactly where he left him, tied to a bed dressed in slutty lingerie as punishment for ambushing him with collared sex the day before. With little hesitation, he heads to their dresser where he takes out some stockings and panties, puts them on Adrian, and then begins teasing him before taking him from behind while yanking on his leash.
So it's not so much about femboys like the other comics BUT it's a quick read and features some really hot crossdressing and bondage so, booya.
See more from Tanks on their FurAffinity page and Tumblr blog.
Critical Success by Roanoke (formerly "Ace")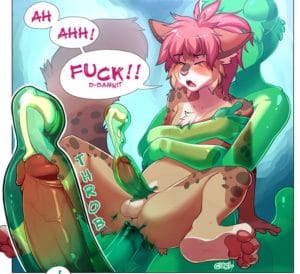 Read it the comic on Luscious comics: RIGHT HERE.
Another with ties from the last list, Critical Success features one of my biggest furry femboy crushes, Avery, who also starred in the hot group sex comic Table for Three. This time, he finds himself playing a tabletop game with  his buddy Terry. As Avery's character in the game is confronted by some ooze furries he quickly uses his charisma ability to turn the game from high fantasy to a hardcore fantasy threesome complete with group sex, exhibitionism, spitroasting, rimming, shape-shifting genitalia, and a double-stuffed asshole.
Sexual Appetite by Tokifuji
[ALL THE FOLLOWING LINKS ARE DEAD DUE TO THE TUMBLR PORN BAN]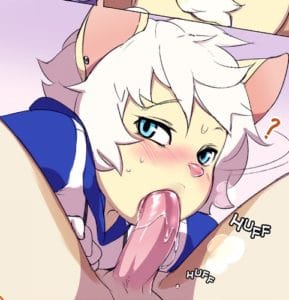 Read it right here on Tokifuji's Tumblr page: Part 1 – Part 2.
Another really hot femboy comic from Tokifuji who, honestly, I feel kinda has this genre of furry porn cornered with outstanding art and incredibly attractive characters. Pretty simple plot here. Jay, the adorable blonde femboy kitty, and Dean have only ever fooled around with some "midnight gropefests" but Dean has a fun idea in mind that will take their … and it all starts with bacon wrapped cock.
Needless to say things escalate quickly to deepthroating, 69ing, ass eating, and a whole lotta cum swallowing (my fave!).
For a lot more of Tokifuji's art, including hardcore photosets and other comic projects, check out their official Tumblr artists page.
Hope you enjoy them… a LOT. *wink* Treat yourself!
While I am choosing to keep this post up, as a testament to how fucking shit Tumblr's bans were, it certainly is entirely pointless now. Thank you for reading before!