CW: Sexually explicit art and descriptions
Picture this: one day you're watching porn and you see the performers do this REALLY hot move. You're thinking to yourself "fuck yeah, I wanna do that!" So, you talk to your partners or lovers about it, you get all worked up, and then the big night comes when you finally give it a go and- it fucking sucks.
Worst. Feeling. Ever. Am I right?!
Well, you're not alone! Cause here's the thing about sex moves and how they're shown on camera: it's staged. It ain't in real time, it's scripted, and there's a lot of awkward shit edited out. What you're seeing is the best footage they got. The most idealized moments captured.
Not to mention that most of those moves you're seeing aren't designed with feasibility or pleasure in mind. They're designed for incredibly fit and toned adult performers to look hot as fuck while doing them.
But damned if we don't want them to work nonetheless!
My partners, Fal and Kate, and I recently decided that we wanted to go through a bunch of these positions to see if they were any good for us.
NOTE: Keep in mind that all bodies are different and what may or may not work for us, may or may not work for you.
Anyway, first up is the Eiffel Tower, y'all!
How it's "typically" done: a person with a vagina is on all fours performing oral sex on a person with a penis, while another person with a penis penetrates them from behind. The two people with penises will then high-five over the person with a vagina's back making them all "look like" the Eiffel Tower… somehow… I dunno, that's just what cishet internet porn says.
How we made it work for us: I laid on my back while Fal rode my girl cock and Kate rode my face. Then they both made out with each other and, of course, high-fived. Now, some might argue that this is more a variation of the London Bridge move (which sounds fucking awful) but no, Fal and Kate high-fived, so, fuck that, it was the Eiffel Tower, okay? Okay.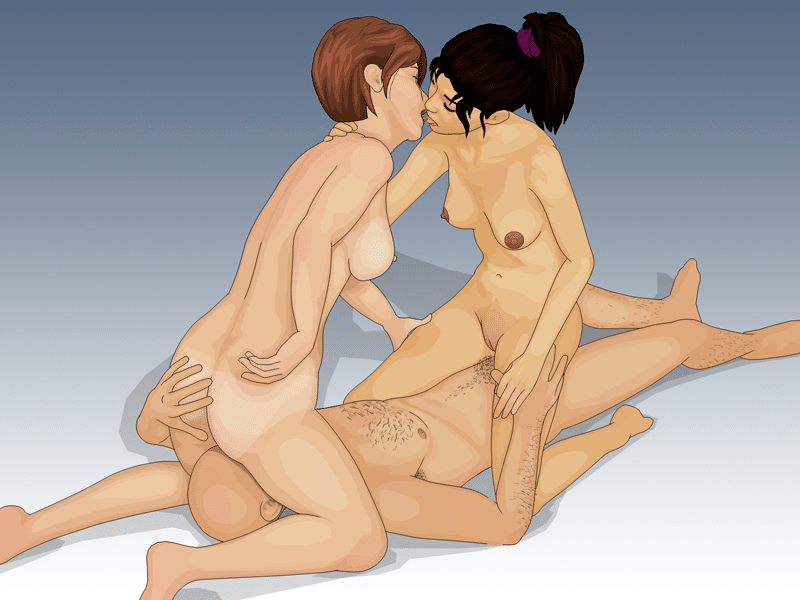 Does it threesome?: Hells yeah it does and it's fucking awesome! No seriously, this was some of the hottest sex any of us has ever had. It was unreal. I dunno if it's just because we're really familiar with each other's bodies, knowing how to bring each other pleasure, but our queer take on the Eiffel Tower has kept us talking about it for days now.
Never would I have ever thought that would be something that would work so well for us but holy shit… Feeling Fal convulse around me, grinding their clit down hard against my pubic mound as I pulsated inside of them. My hands firmly gripping Kate's ass (and it's such a good ass), occasionally wandering up to caress her stomach and breasts as she wrapped her soft thighs around my head and pushed her swollen clit against my tongue. Hearing the two of them kissing passionately as they used me to pleasure themselves. HOT DAMN.
But don't just take my word for it! Here's what Fal and Kate had to say:
Fal – "It's funny because riding Nillin's girl cock is something I do pretty often, but the combination of their moans from between Kate's legs, and her clinging to me as she rode their face… wow. It was a whole new level of awesomeness."
Kate – "Feeling [Nillin's] mouth on me and making out with Fal, and caressing them, was so hot. So, so hot."
So, there it is. 10/10. Would Eiffel again.
Best part about it is just how versatile this is. Regardless of what genitals are present in your threesome, you can adapt this in a number of ways to make it work for you too.
Just remember, you gotta get that high-five in! Without the high-five it does NOT count. It does NOT Eiffel. It does NOT threesome. High-fucking-five! Alright? Don't forget it. Just do the high-five, Nancy, okay? Good.
What other threesome moves have you always wanted to try out? Got any you gave a go and really liked, or disliked? Let us know in the comments below!