CW: this post contains sexually explicit images and descriptions.
Six months ago I, along with my partners Kate and Falon, embarked on an epic journey to try out as many threesome positions that we had seen in porn as we possibly could. First, we were blown away by the classic "Eiffel Tower", and then… uh, well, we completely fucking forgot about our plans and just ended up doing it a bunch whenever we felt like it without writing about any of it… oh, shit. Our bad.
But also fuck it, we were having awesome queer sex and I've just now realized that where once a threesome seemed like a distant fantasy it's now just my regular sex life cause fuck yeah, polyamory!
Anyway, we're FINALLY back with part 2 of "Will It Threesome?", and we're doing the Double Dip, y'all!
Please keep in mind that all bodies are different and what may or may not work for us, may or may not work for you.
How it's done in mainstream porn:
Okay so, typically, in most porn featuring this position, the double dip is all about a person with a penis going back and forth penetrating two people with vaginas. More often than not, a person with a vagina lays on their back while another person with a vagina lays on top of them, then a person with a penis "double dips" by.. well, I think you get it.
How we made it work for us:
My partners and I actually gave it a go the mainstream way before trying any alterations. But we all happen to be mega queers and two of us are enby, so, it looked a little like this for us (minus the big dildo):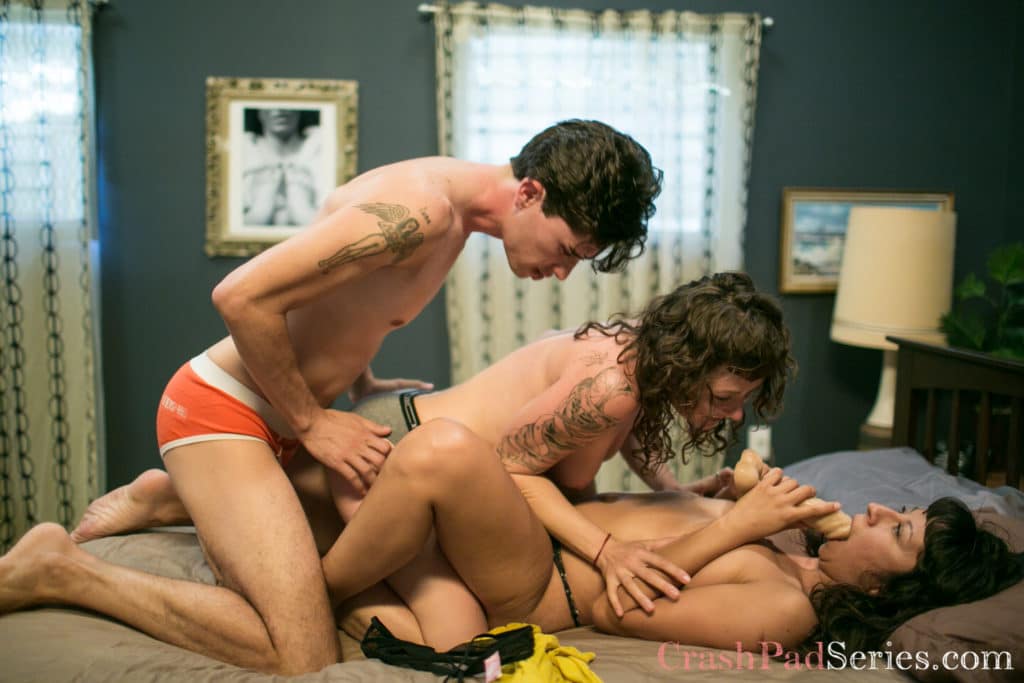 And this was really fun, for sure! Problem was though that we're all very different body types and sizes, we're not very limber, and we all got joint pains which made it pretty awkward trying to get it on exactly as seen above.
Instead, Fal laid on their back, with Kate on top of them, then they shuffled their booties to the end of the bed so that I could fuck them while standing. That worked WAY better for us all, and it was hot as fuck.
But more on that in just a moment, first things first:
Does it even threesome?
FUCK yeah, it does, and there's so many ways to alter the move so that it works for you and your partners and/or lovers. For example, instead of two people positioning themselves in a stack for the third, they can instead both lay side-by-side on their backs, like this:
Stills from CrashPad Episode 264; featuring Alice the Wolfe, Ava Damore, and Margot Rose.
Aside from playing around with the position itself there is also a lot of versatility in how that shit is executed. Don't have anyone with a penis involved? Not a problem, use your fingers, a strap-on, dildo, or even a magic wand. This can and should be modified in whatever ways feels good to everyone involved, and it's especially adaptable for queer and trans folks.
As for how it felt… it was fucking mind-blowing! Seriously. Looking down to see Kate with her legs spread, straddling Falon, the two of them making out and quivering excitedly in anticipation of who was going to get my girl cock first, was so fucking amazing. Then fucking Fal deep and hard, hearing my pubic mound slapping against their wet pussy as they gasp in pleasure, only to pull out and immediately start fucking Kate, mixing all of our juices together inside of her… I mean, holy fuck, right?
Don't just take my word for it though! Here's what Fal and Kate had to say:
Fal – Not only was this position hot as fuck, it was also super gender affirming. Feeling Kate riding me as Nillin fucked her from behind felt strangely like we were both fucking her. It was bizarre and incredible and entirely unexpected.
Also, feeling Nillin between my thighs, but not fucking me did crazy things for my lusty, submissive side. So when they did thrust their girl cock into my dripping pussy, with Kate sandwiched between us, I came almost instantly. Tbh, some of the best sex I've ever had.
Kate – I liked a lot of different aspects of this position. I didn't really know what to expect because based on the drawings and descriptions I saw it could be really awesome, or really awkward. It ended up being really awesome!
It was a really different experience being fucked between my partners while they were fucking too. Like, I was a part of the action in a way that just isn't really possible in other positions where one person is being penetrated.
I agree with Falon when they said that at times it was almost like Nillin and I were both fucking them together. And then when Nil fucked Falon with their girl cock, and me with their fingers at the same time, that was fucking awesome!
So, yeah, it's a unanimous 10/10, would double dip again, and I recommend that you do too if you get the chance!
Thank you to CrashPad series for allowing the use of photos in this post, and for the feature image.