[CW: post contains sexually explicit erotic art, all links lead to NSFW pages]
It has been a hot minute since I made a list of awesome sex comics for y'all to check out! Usually I'm here raving about queer furry comics (see 5 Awesome Hardcore Furry Femboy Porn Comics and 4 More Awesome Hardcore Furry Femboy Porn Comics) but this time I though I'd focus in on another genre of porn art I love: high-fucking-fantasy.
Besides, there may still be femboys and furries here too cause they're kinda a staple of fantasy erotica, so, bonus.
Anyway, here it is, 3 of the best NSFW fantasy webcomics you can read right now:
I think that it's safe to say at this point that Alfie is kinda the gold standard for not only fantasy themed sex webcomics, but for adult webcomics in general. It's just all around an incredible fucking read. The art is gorgeous, the story is entertaining, the characters are memorable and sexy, and the sex scenes are unlike anything else out there.
Even after 9 chapters, and just under 600 pages, it just keeps getting hotter. If you haven't checked it out yet, and why the HELL haven't you read this yet, the whole thing starts right here with Page 1.
For those seeking really well-done crossdressing, sissification, and domination play, be sure to check out the subplot following Alfie's mom, Vera, as she embarks on a kinky sex odyssey with a rich, queer, horny elf named Ailduin. That whole arc is covered in Chapter 2, Chapter 4, Chapter 5, and Chapter 7. [CW: the arc does contain some pretty intense homopobic and sexphobic baggage that Vera works through]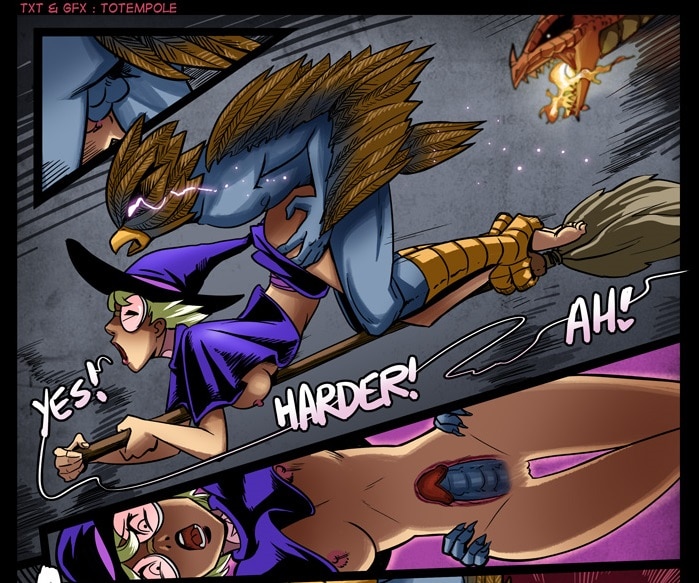 Cummoner is another well-established series that I've been reading on and off for a few years. It follows a young witch named Vilga who derives immense powers from experiencing sexual pleasure. The only problem is that the more intense her orgasms are, the more destructive and uncontrollable her magics get.
Anyway it's silly and it's funny and it's pretty fucking sexy too. The whole thing starts right here with Chapter 1: First Time for Everything.
Highlights of the series for me include the hardcore porn comic version of the "body swap" narrative in "Part 6: The Lefts and Rights" when Vilga and Tuck get stuck in each other's bodies and have to fuck each other to switch back. Oh, and "Part 11: Wetwork" kinda has a whole bunch of my lewd art kinks as Vilga is cursed into becoming a sexy goo-girl and she has to fuck a buff-as-fuck demon named Lucy in order to gain her solid body back. Top notch!
Currently, in "Part 14: The Pervertgeist" the series has just introduced two new major characters in Sroka, a badass paladin babe, and Meva, her adorable assistant mage, as they face off with a sort of grim reaper creature who craves getting blowjobs and eating pussy, so, that's hot!
This is one that I just started getting into, but the art is gorgeous and the sex scenes are fucking hot. Plus, theres a surprising amount of diverse gender expressions, body types, and sexualities featured here. And then there's all the casual group sex, exhibitionism, public fucking, mutual masturbation, humiliation play, tentacle fucking, occult sex rituals, and so, so many orgies. Oh, and hot, pansexual elf babes!
Are you reading it yet? What the hell are you still doing here… go read it!