It's fucking time! After actively reading it for years I'm finally going all the way back to the beginning of one of the longest running, sexiest, most hardcore fantasy sex webcomics around and reviewing the whole fucking thing. That's right, y'all. Over the next couple of months I'll be covering all 12 chapters and 818 pages (as of Sept 5, 2019) of Alfie by InCase, starting right here with chapter 1.
Heads up that I have read this entire series a few times through already. I'm a fan and I know how the story develops and InCase's art grows tremendously along the way. So I'm going to be reviewing each chapter collectively in comparison with all 12 chapters in mind.
Anyway, enough of all that! Join me in venturing back to the beginning of this unprecedented, cum splattered, queer as fuck, orgy filled, high fantasy fuck comic!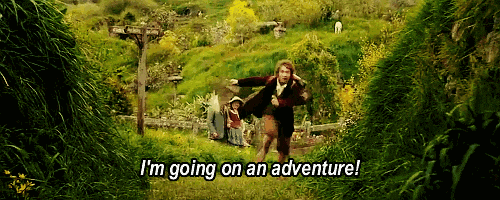 The Story
Strangely, it isn't until page 15 that we get a quick establishing summary for the basic plot, but I'm going to address it first because I feel it's important framing to cover before getting into things more:
"Spring of the year 1147. A human and elven caravan reaches a remote halvin village of Pickering. Villagers, wary of the outsiders, make them camp far away from their homes. By the long abandoned mill."
So that's the super basics. We're just outside the halvin (InCase's version of halflings) town of Pickering at a caravan of humans and elves, and nobody particularly likes or trusts each other because racism (a LOT more on that in later chapters).
The adventure itself opens with out titular hero, Alfie, hiding in some bushes as she watches her best friend Melly passionately deepthroat and fuck a human named Jean behind that long abandoned mill mentioned above. While she's shocked that Melly is doing what she's doing, both because she's married and because sex between humans and halvins is definitely not encouraged, Alfie still can't help but look on with excited curiosity.
Turns out she's not the only one watching though. Another human, this one named Marco, was also taking in the show of Jean and Melly getting it on outdoors from a spot right beside Alfie. Once Alfie realizes she's not alone she immediately freaks out and takes off back toward the caravan. It is then revealed through some quick discussion that both Marco and Jean are friends and members of the guard for the caravan… And it is highly likely that they are also not supposed to be fucking the halvins either.
Back at the caravan itself we are introduced to Alfie's mother, Vera, who has set up some of her wares in a small makeshift market that's popped up in the area. She aggressively chides a man about his business request, then scolds Alfie for having wandered off before ordering her to help pack everything up so that they can go back home to Pickering. While on the road, Alfie worries about how bad a situation Melly will be in if she keeps on cheating on her husband with Jean… then thinks about Marco and how she wants to know more about the humans too.
The chapter ends with a dream sequence of Alfie imagining herself being felt up by the hands of multiple humans. Just at the tail end of it we see a shot of Marco hovering over her grinning as he's just about to start fucking her.
And that's pretty much it! The chapter is basically a sex scene and info dump, which is totally fine because it does a serviceable job at introducing the cast, the sex that happens is SUPER fucking hot, and Alfie is so fucking adorable it's unbearable.
However, unlike the chapters that follow, this one simply isn't narratively exciting.
Rating = 2.5 out of 5
The Artwork
Full disclosure: it's going to be hard to really accurately review the art here in a way that shows the full scope of growth because the chapter 1 of Alfie that exists now does not actually feature the original art that was published on November 13th, 2010. So whereas I would give the original art a lower grade in comparison to the more evolved styles seen in later chapters that InCase has developed over the years, I can't really say that the new art is anything less than stellar either because it has been completely redone in late 2017 to reflect their improved ability and gel with the rest of the comic.
In fact, the difference between how this chapter looked when I first read it about four years ago, to how it looks right now is genuinely startling. For example, here is the original artwork of a moment from the very first sex scene depicted in chapter one:
And here's the new version of that same scene complete with the rewrites, art overhaul, and character redesign for Melly:
Holy fuck, right?
That being said, since I personally feel that the art still manages to get even more impressive as the book goes on, especially come Chapter 7 when full, vibrant color is introduced and the backgrounds, scenery, weather, and textures get even more elaborately detailed, as impressive as the reworked pages are they're still not peak InCase. So…
Rating = 3.5 out of 5
The Sexiness
Okay so the story is okay and the art is really great, but is it sexy?
Sure is! The whole outdoor sex scene between Melly and Jean, while ultimately quite tame compared to everything else the series has to offer, is still really hot and a really great introductory fuck.
I think what really does it for me is just the general display of ethical exhibitionism (Melly and Jean really are trying to keep hidden and did tuck away somewhere reasonably concealed) and voyeurism. It's nothing intense, yet still manages to arouse the fuck out of me every damn time.
Rating = 3 out of 5
Overall Rating
Overall combined average of all possible scores is…
3 out of 5 for Chapter 1
A decent start, right!? And trust me, it only get better from here!