If you've been on the internet looking at porn for any period of time chances are that somewhere, somehow, you have seen lewd futa porn comics and art from InCase.
The champion of outstanding futa art, a master at drawing the most realistic and delicious looking cum, and arguably the most consistently working artist generating high quality, hardcore bisexual porn, InCase is somebody that can be found on almost every major list of recommended sex comics, and for good reason too.
So, if you've found your way here from some filthy search engine result then please be sure that you read ALL of the works below. InCase has all of your explicit as fuck, beautifully drawn, cum splattered porn comic needs featuring crossdressers, sissies, feminization, and other playful displays of gender nonconformity, covered.
[NOTE: While InCase describes their characters as being futas and dickgirls you should never use these terms in reference of other trans, enby, or gender nonconforming folks, unless they identify themself as such, because those words have long been used to demean and dehumanize trans individuals.]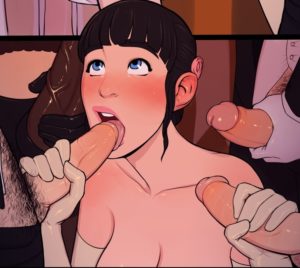 Two young debutantes, Charlotte and Emma, compete for the attention of the crowd during an orgy at their first High Society function.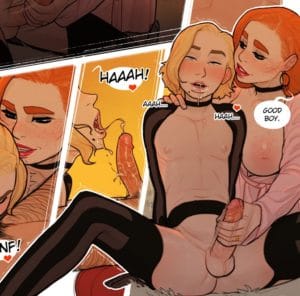 A married couple invites a cute crossdressing boy to join them for some passionate group sex.
After helping her boyfriend get all dolled up in make-up, stockings, and a short skirt, Amanda surprises him with revealing that she has gotten her friend Mike to come over to play.
After getting a bunch of work done around the house, Betty invites the neighborhood greaser boys over to help her relax before her husband comes home.
College Professor Anna Jelenko, a member of an alien race living on Earth known as the Puazi, goes into heat along with the rest of her species and just can't stop fucking.
A young man, William, chronicles his experience of transforming into a beautiful, lustful succubus for the sexual appetites of a demon known as "The Master" in a letter to his fiancé, Annie. She later seeks him out with the goal of freeing him, but soon finds herself struggling to resist the temptations that William has already succumbed to.
A short comic following college age Princess Bubblegum being fucked hard by futa Marceline after a late night of drinking. [CN: includes depictions of inebriated sex]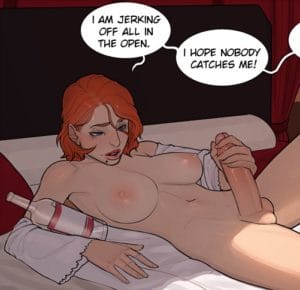 Miss Portia, a wealthy woman with all the comforts that money can offer, spends her day seducing the one woman she wants more than anyone else, her maid.
An adorable, long-haired femboy explores new terminology for dirty talking with his big dick girlfriend before they roughly fuck one another.
A young, pretty sorcerer summons a demon with huge breasts, and an even larger cock, to fulfill all of his sexual needs.
And of course this wouldn't be a complete list without Alfie, the 804 page, 12 chapters long (at the time of this posting) high fantasy, hardcore sex webcomic about the journeys of a busty, lustful halfling who flees domestication for greater adventure.
[Content Note: A great deal of Alfie's early chapters include themes of intense queerphobia and sexphobia, primarily from Alfie's mom, Vera Tolman, who is struggling to accept her own sexuality and projects extremely harmful ideals onto others.]
If you enjoyed these porn comics be sure to follow InCase on Twitter or, better yet, support them on Patreon because Twitter is already on track to clamp down hard on all adult content from the community.