Fuck yeah! It's Halloween season, which is great for me because it just so happens that I'm a HUGE fan of otherworldly sex fantasies, mythical monster genitals, poltergeist fucking, and demonic/hell kink. In fact, the weirder the creatures and the freakier the sex, the more I'm into it. Basically, I fucking love monster porn.
Give me C'Thulu filling all my holes with its tentacle phalluses high above Innsmouth while the townsfolk slowly turn into sea creatures as they have a ritual orgy below us.
Yeah, I just fucking wrote that.
And god bless the internet because if you've got a thing for weird shit like some buff as fuck werewolves, horny giants, attentive vampire lovers, or insect babes, then chances are there absolutely are sex comics or erotic art of it out there.
But before I get into talking about some of my personal favorite types of monster porn, with links to where you can find quality content for them, there's one pretty problematic convention that very few artists or creators have managed to break: these genres are rife with explicit depictions of rape, sexual assault, and sexual violence.
I mean, the entire premise of tentacle hentai (one of the most popular fantasy/horror kinks since Feudal Japan) is massive creatures overpowering young women to impregnate them against their will with their literal creature eggs, or sperm.
For this piece I've strived to find as many consensual, queer positive/affirming monster sex porn comics as I could, however, this was surprisingly more difficult than anticipated so there's a pretty limited pool of stuff. If you'd like more of any of the following types of fetishized cryptoids then feel free to drop them in a search engine, just keep in mind that most of the content you find will likely contain a lot more sexual violence than what I've compiled here.
Anyway, here's some lewd shit!
Goo/Slime Girls (and Boys… and Enbies!)
What the fuck is that, you ask? It's EXACTLY what it sounds like. Sexy humanoids made of slime, goo, jelly, or any other type of viscous material, fucking hard. One of the coolest things about this genre is that the translucency of so many of the characters makes for some really hot penetrative sex visuals as you can literally see internal cumshots happen from the outside… hot fucking damn! For some great Goo/Slime people sex comics be sure to check out Melting by InCase [CW: this story contains a narrative of sex while intoxicated], A – Z by Doxy, and one of my personal favorite furry comics, which also happens to have a slime girl in it, Critical Success by Roanoke.
Demons & Succubi
By far my favorite demonic porn comic is The Invitation by InCase. This shit is SO fucking obscene, and so fucking queer, and I love it. The art is some of the best you'll find in a sex comic online, with absolutely incredible demon designs, and it's genuinely just fucking hot. And you know what? Read Hella Trap while you're at it too. It's a short, great little queer sex comic featuring a hot as fuck demon.
I also highly recommend checking out Locking Horns by Norasuko on E-Hentai and Locking Horns II for free on Fakku.
If you're looking for something that's a bigger read, the incredibly NSFW The Cummoner series from Totempole has a fuckton of demon sex (one of the main characters is a familiar), as well as all sorts of other monster sex including big dick satyrs, bird-men, tentacle monsters, disembodied ghost hands, and so much more!
Tentacle Monsters, Giant Squid, and Old Gods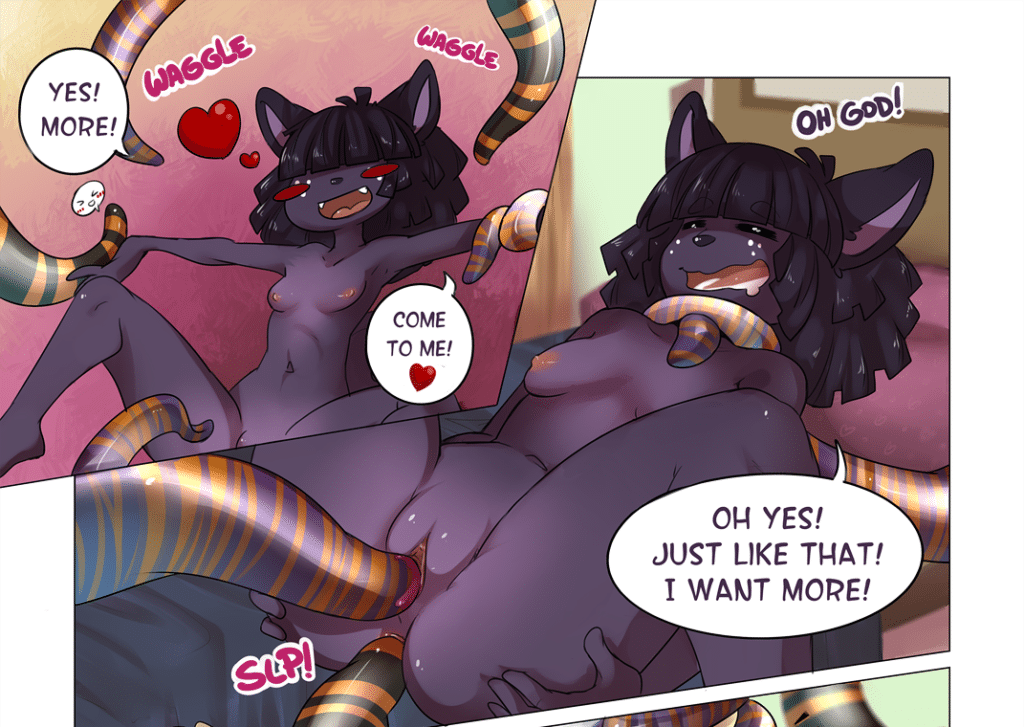 So, like mentioned earlier, tentacle sex tends to almost always be presented as rape. But there ARE exceptions, such as Gift from the Water God by Zummeng. It's this great little furry sex comic about an anthropomorphic goat girl who makes love to a serpentine lake deity all day and night.
Best part about it, none of the sex is forced! Yay! If you dig that, there's also Candy Squash by Caninelove, which features three adorable furry babes summoning and group fucking a candy monster with multiple phallic appendages.
[CN: the following content contains depictions of sexual assault and/or coercion]
Unfortunately though, that's about it for the consensual tentacle porn (aka, consentacle porn).
I scoured a bunch of artists profiles and hosting sites for days trying to find more but the next closest I could find was Fairies vs Tentacles by Eldrik Aethervial, a long running webcomic that actually depicts some really wholesome alien octopod sex starting in Chapter 2 on page 64, but the series still relies very heavily on forced sex and sexual assault both before and after that.
Do you know of any other monster porn comics (or artist galleries) featuring hardcore consensual sex? Let us know in the comments below!