Title: Femboy Besties
Platform: PC [on the Steam Store]
Price: $1.19 CAD
Game Length: 15 – 30 minutes.
Summary: Taking on the role of the narrator, you pick up two hot femboys in a nearby park and bring them back to your place for some voyeurism, exhibitionism, and queer as fuck group sex.
Level of Lewdness: High
Is It Sex Positive? Yeah, definitely! Everything depicted comes with enthusiastic consent from all!
While out for a walk in the part the story's narrator, who you get to name, bumps into a cute femboy named Blue who introduces you to his friend Addi. Turns out the two of them think you're pretty cute and are picking up on some queer flirty vibes, so, they through out a bold proposition for you to take them back to your place where you can then watch them fuck each other. Of course, we're definitely on board!
Once back at your pad, you pull a chair up to the end of you bed where you sit and enjoy the view of Blue sucking Addi's cock, followed by the two of them frotting their dicks together, then moving on to Blue pounding Addi from behind. Meanwhile, all we're permitted to do is sit in that chair and jerk off. Each time that Addi comes close to an orgasm, Blue backs off and denies him one until finally, through hushed whispers, the two bend over and beckon you over to penetrate them both.
Good times!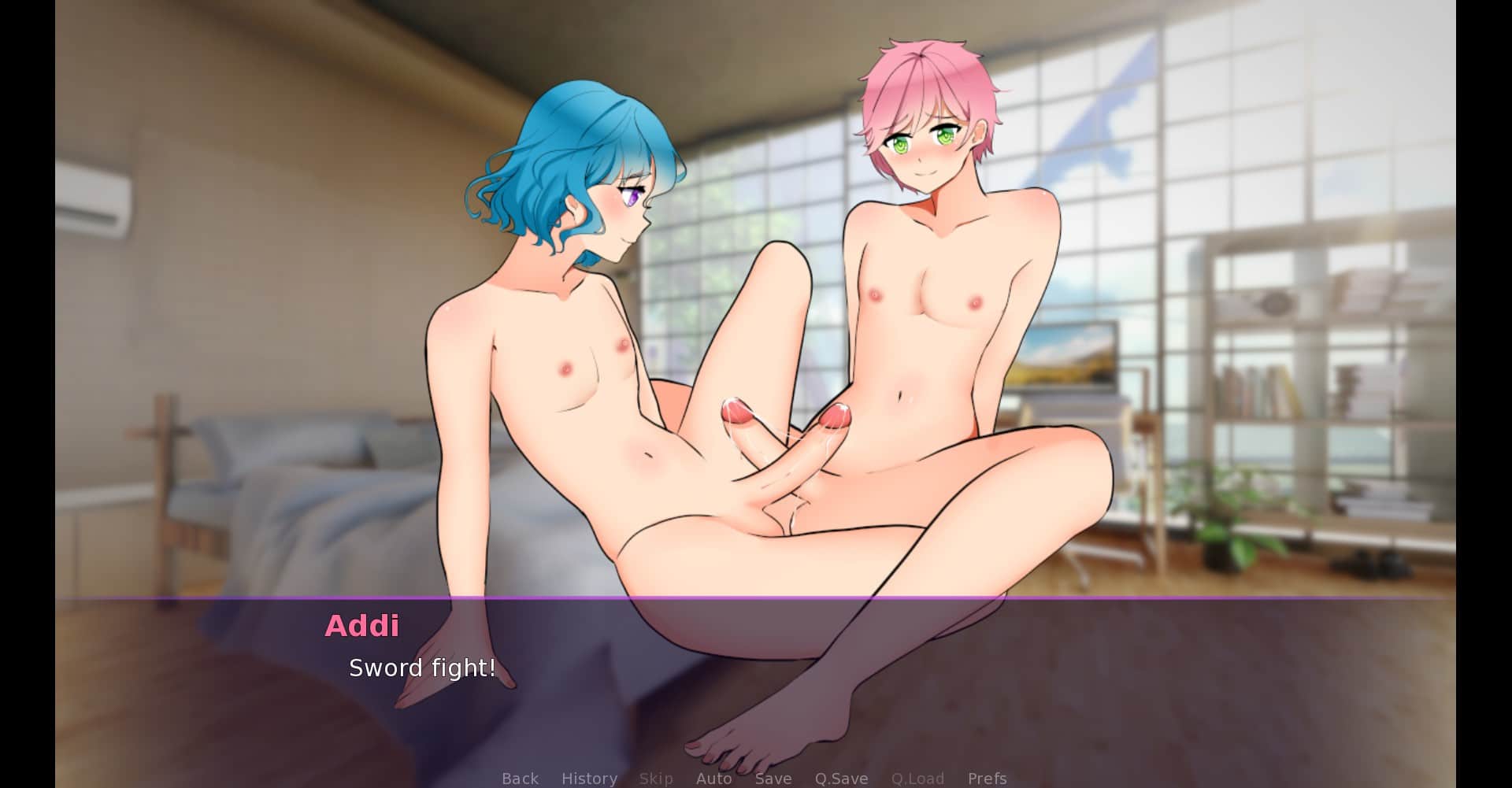 Unfortunately, the writing is… not stellar. Like in developer owliboy's other femboy game, Femboy Bangers – Pub & Grill, this erotic visual novel has it's fair share of grammatical and tense related errors. However, I personally didn't find them too detracting from the overall experience. There's also not a lot of plot or character development of any kind though. It's more of a wholesome, playful, sexy erotica flash fiction story with some accompanying lewd artwork.
And you know what, it mostly works! Blue and Addi are both fucking adorable and look, if you're into femboy porn then this is short and sweet and cheap for a fun distraction.
Just be aware that it is really short though. Depending on your reading speed and whether or not your there to just jerk off to it, the entire narrative can be experienced comfortable in anywhere from 15 – 30 minutes. Probably even less if you're only there for the lewd art. But hey, at just a couple of dollars, you can't really complain about that! It may only be around 2,000 words of smut but it comes with cute femboy porn art and I'm happy to have it in my spank bank of visual novel erotica games!
So, yeah, check it out if you've got a few dollars and want some cute gender fuckery sex art to get off to one evening.