Most of us fantasize about it, many of us have done it on occasion, yet talking about masturbation in the great outdoors can feel a little scary. However, the problem isn't necessarily doing these things outdoors, or in public, so much as it's the potential for others being exposed to these actions without their consent (NEVER seek out opportunities to expose yourself to people in public… that's sexual assault and harassment… period).
But if nobody sees you do it…
Anyway, here are three locations to enjoy the thrill of outdoor self-pleasure, along with some tips for how you can get off with the absolute minimal risk for unwanted exposure.
Outdoor Wooded Areas
Some of you might be thinking "ugh, I live in the city and can't just up and go masturbate in the woods!" But you CAN do that because almost every city or town has wooded areas and, honestly, they are AWESOME places to get off in. Not even kidding. It's the best. I'm not sure what human cum does to foliage, but if there are any scientists out there researching the topic I'm positive that they could learn a lot from the incredible amounts of ejaculate that has been plastered all over nature in the parks of the world.
What's so great about these places is that they offer a ton of coverage yet you're still technically IN an urban setting. Once you find the right spot, you'll be able to kick back, enjoy the breeze, hear your city bustling in the distance (depending on the time of day), all while you treat yourself to a good time. So, how do you keep your outdoor batin' low key?
It's pretty easy, actually. Between the trees, dense bushes, tall grass, etc. all you gotta do is go for a walk and let yourself wander off the path once you feel confident there's likely nobody watching you. Just a minute or so into the foliage you'll almost always find a nice little place  out of view from any joggers, walkers, and cyclists where you can become one with nature… by cumming all over it.
Pro-Tip 1: DON'T get completely naked. While your chances of being seen are rather low, so long as you are using common sense on picking a nicely concealed masturbation spot, you still want to be able to cover up and leave in a hurry should you have to. Track pants, sweat pants, loose fitting clothes in general, are great for quickly pulling up and down as needed.
Pro-Tip 2: DON'T wear bright colors. Nothing defeats the purpose of sneaky outdoor orgasms more than wearing a bright orange hoodie or the reddest jacket that you own. Instead, wear blacks, dark greys, dark blues, or maybe some forest greens. Wearing hot pink while your playing with your hot pink is just flat out foolish.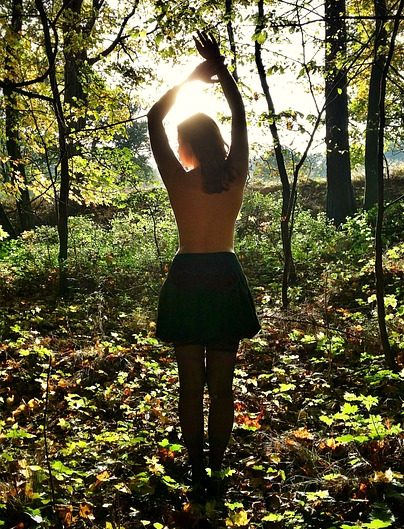 In Your Car
There's nothing quite like pulling off the highway onto a grid road where you can put your car into park and positively make a mess of yourself from a little self-lovin'. Alternatively, heading out at night for a little drive and finding a nice dark parking lot or side-street to yourself is guaranteed to get you off. You don't even have to do it solo!
If you have a lover, or a friend, or whatever, who also enjoys the thrill of car 'bating then invite them with you! For extra hotness, encourage them to play with themselves in the passenger seat while you're driving around looking for a great spot for play time together. By the time you do find the perfect place, you'll both be so worked up from the naughtiness, coupled with the excitement of what you're about to do together, that it probably won't take long before you both need to go home and get cleaned up ASAP.
Pro-Tip 1: Wait until it's dark, that way there is a lot less traffic on the roads, practically no pedestrians around, and far more places to park where you won't be seen.
Pro-Tip 2: If you pick a masturbation spot along a dark road, or parking lot, or whatever, DON'T leave your car running. Shut it all down so that there are no lights or sounds drawing attention to you.
Pro-tip 3: Keep a box of Kleenex in your car for clean-up!
In the Backyard
Whatever your living arrangements, if you've got a backyard and some home alone time then getting off out back  is hot as fuck too!
Pro-Tip 1: If you're going to sit/lay outside during the day, bring a blanket and book. Wrap up in the blanket, pretend to read, and let that dominant hand bring you to climax!
Pro-tip 2: Once again for maximum safety, with the risk of getting busted still being present, wait until nightfall to sneak out back and do your thing.
Pro-tip 3: If you have any security lights, or motion detector lights out back, make sure you deactivate those before going out to play with yourself.
For more Ethical Exhibitionism topics check out:
Where to Find Consenting Audiences
NOTE: Thursday updates will be re-posts from mxnillin.wordpress.com, which was permanently suspended by WordPress due to their sexphobic anti-porn and anti-sex work policies. This post was originally published on November 6, 2016. Click here for the full story.