It's been a really rough year-and-some for lots of us out there, in many ways it's been doubly so for sex workers. Despite all of the blatant sexphobia out there from various platforms, coupled with ultra-conservative thought police trying to paint sex work with the broad stroke of "it's all sex trafficking" (which it's fucking not), and the endless efforts of fundamentalist lobbyists trying to purge the internet of porn, it's a fucking wonder that these hard working folks still manage to generate sexy content of any kind. Let alone sexy content, during a goddamn global pandemic, that keeps the rest of us inspired to look after out own sexual needs and to keep hopeful about the relationships and experiences we will be able to get back to with our partners, friends, and lovers again soon.
One such amazing sex worker is Delilah Darkholme who has been especially inspiring me to keep on with prioritizing my sexual health, wellness, pleasure, and desires even amidst what occasionally really feels like the end times! Taking a cue from my last OnlyFans account review, here are 4 reasons why you should subscribe to them, like, fucking now :
1. They have so much hot as fuck queer content!
I'm talking 1148 photos and 70 explicit videos (as of this post date) that become available the instant you subscribe, and there's a LOT to like across that huge spread of content. You're getting bondage, pole dancing clips, masturbation vids, POV cock sucking, pain play, semi-public nudes, anal training content, lingerie pics, as well as copious amounts of boob, dick, and one of the BEST asses on the internet!
Not even exaggerating here, Delilah's butt is seriously in the God-tier of ass.
On top of all of that, you get the added bonus of seeing them fuck their partner, Billy Lore, who happens to also be a hella cute trans sex worker. The two frequently make content of them them strap-on and face fucking each other, tying each other up, teasing each other, and generally just filming fucking amazing, candid queer sex. There are also SO many cute, sex positive, behind the scenes selfies of the two of them being cute and playful that manages to both be adorable and arousing at the same time.
2. Trans positive enby lewdness!
There have been many times on this blog where I ask myself as a non-binary person "how the fuck do I sexy?" and I never really have a full answer because so much of that comes down to my need for more sex positive enby representation and figuring out what makes me feel great. Then I see an OnlyFans like Delilah's and I think fuck… now THAT'S how you sexy. Their range of style and expression is both broad and impressive. If there's one thing that's for certain it's that Delilah isn't afraid to experiment with whats arousing, and it always comes through in really inspiring and empowering ways!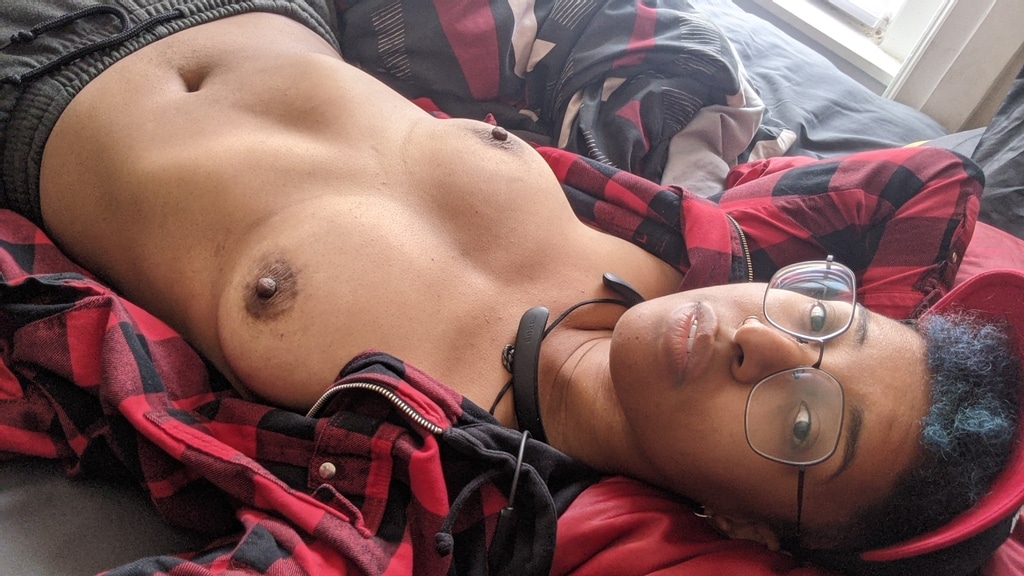 3. That pole work and kink content though!
It's not a super frequent thing, because of Covid and all, but whenever we're blessed with some footage of Delilah showing off their skills on the pole it's always both impressive as hell and yeah… fucking hot. Seeing their strength, muscle control, and how they move their body is such a damn treat!
Luckily they are more than generous with the uploads of self-bondage, shibari, spanking/impact, bruises, clothespin play, work lewds, and even some stuff that's starting to veer into pet play (you know what I like!). I particularly love how they interject a lot of their own style and personality into their play too. Everything you get is not only kinky, it's Delilah's own personal, unique, often nerdy brand of it!
4. Their teasing game is fucking INCREDIBLE.
Hands down one of Delilah's strongest qualities is how strong their flirting and teasing game is, and how well it comes out in all of their photos. When they post pictures, they know EXACTLY how to hook you in and never disappoint with providing a mini-gallery, ranging from 4 to 10+ pictures at times, that do a fucking tremendous job of slowly, methodically, and gleefully revving you up by revealing more of themself little by little with each snapshot.
It makes every post feel just that more exciting and intimate.
Are you sold yet!? You should be!
Subscribe to their OnlyFans.
Buy their porn on Many Vids.
Follow them on Twitter.