2018 has kinda been balls, y'all. Between seeing a stark rise in violent white supremacy, culturally centric hate speech, the reversal of civil rights, targeted murders of vulnerable minorities, the rise of full blown fascism in the Americas, a massive boom in transphobia worldwide and tons of other depressing and terrifying shit, it's been hard to stay positive.
Yes, even as a Canadian.
While it's not widely acknowledged or reported, we've got major issues not being addressed that could very quickly become even bigger problems. Canada's own Gavin McInnes and his Proud Boys have led a wave of violence in the US, our country has a full-blown hate news outlet called The Rebel Media that is often not unlike Alex Jones' InfoWars, the Canadian Military has acknowledged the presence of neo-nazis in our armed services, and the Conservative Party of Canada has very long and well-documented record of courting white nationalism and touting racist ideologies.
And oh great… 2019 is election year for us… here we fucking go…
I mean, let's not get cocky and forget that a proud white supremacist came in third during the Toronto mayoral race with 25,667 votes, who the newly elected Premier of Ontario at first refused to condemn after he posed for photographs with her and several other know neo-Nazis the month before elections.
Fucking gross…
Anyway, it has been really challenging on a personal level too. Especially during the Fall months. In September alone my partner Kate lost her grandmother, Fal and I lost our pet guinea pig Helena, we lost our car to a reckless driver running a stop sign, and my depression hit an all time low. Then the very next month ended with our apartment having to get sprayed multiple times for bed bugs due to an outbreak in our building.
Generally speaking though I have also struggled to unpack and cope with the lasting effects of escaping my transphobic, queerphobic, and racist family, all while finally acknowledging and seeking treatment for decades of emotional, financial, and physical (in my early childhood) abuse from my father. Last year was the last time I have spoken with anybody in my family, other than my mom who left my dad and is starting her adult life over for herself. She has been incredible and I love her so much, but it's still hard losing your supposed family because they all turned out to be nasty bigots.
If that weren't already enough, I have also been unemployed for over a year now. I've applied for hundreds of jobs, had numerous interviews, met with very promising and excited potential employers, yet I have yet to land a job either in my field or in ANY field, including retail.
It's all really fucked with my mental health tbh.
In the past I had a habit of dwelling way to long and hard on the negatives, which would often result in big depression spirals, emotional breakdowns, and unhealthy self-isolation.
So, in the spirit of celebrating my successes, and not letting the negatives overwhelm the positives, here are 5 really fucking awesome things that happened to me during this rough year:
I Was Acknowledged in a Joana Angel Erotica Book
Holy shit, right!? Back in 2017 I was consulted on the crossdressing content in Angel's latest book "Night Shift: A Choose-Your-Own Erotic Fantasy". It took a few days for me to prep my feedback and then get it back to her through a intermediary (thanks Jiz Lee!). To my surprise she ended up taking almost all of my advice!
When I was sent a copy and finally got to read it, I felt pretty fucking cool, haha. I mean, seeing my name, Mx Nillin, in print at the back of the book? That's seriously gotta be one of my favorite personal moments ever now.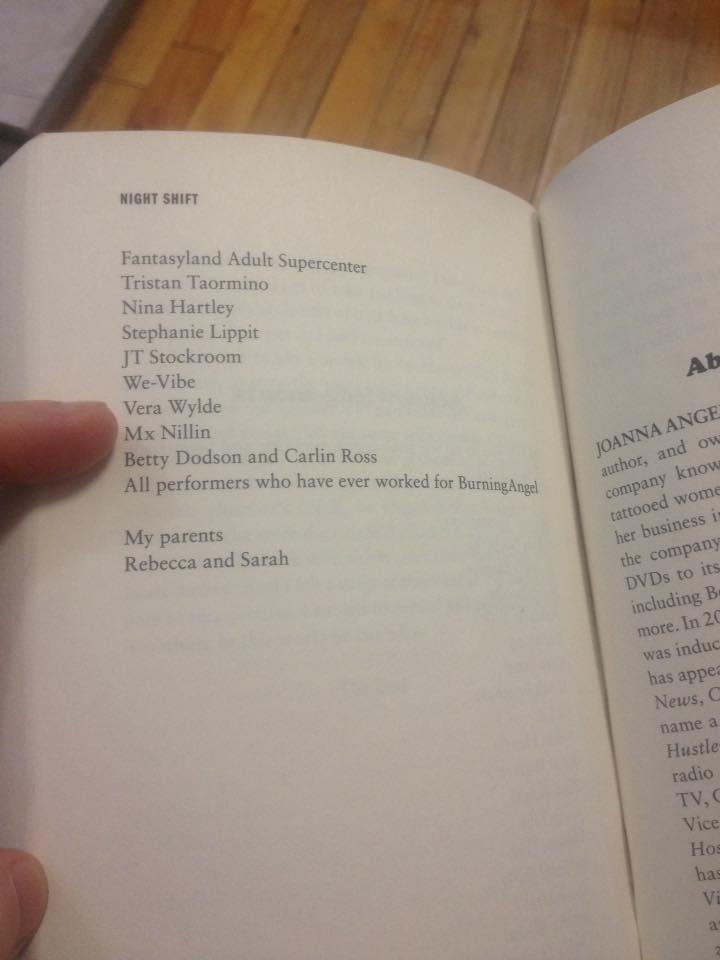 I Celebrated 1-Year of Happy and Fulfilling Polyamory with My Partners Fal and Kate
As much as this year has had a lot of challenges, stresses, and overwhelming times, one thing that has never been a negative, or drained me of spoons, is my relationship with Kate and Fal. I love them both tremendously. They've uplifted and supported me in major ways, been there for me through all of my struggles, and I'm thankful for everyday that I have with them.
Recommended reads about us: Coping When Your Partner Expresses Having Feels for Somebody Else as well as it's follow-up Fucking Friends: Why I Need Ethical Non-Monogamy in my Polyamory.
I Presented at My First Conference & Was Approached by NYC Pride for a Speaking Opportunity
I actually gave a few pretty great local presentations over the past 12-months through OUTSaskatoon, which accumulated in me being offered a spot speaking about polyamory and non-monogamy at the 2018 Interpride World Conference & AGM. While I had my typical emotional breakdowns, panic attacks, and overall bouts of feeling imposter syndrome leading up to the actual presentation but once I got started I fucking rocked it!
It went so fucking well, in fact, that some folks from NYC Pride approached me afterward asked me to speak about polyamory more with their volunteers, members, and committees via video chat a couple weeks later. Which I did, and I fucking rocked that too!
I Spent an Awesome Weekend with my Sex Blogger Bestie
As if my sex life wasn't already fucking amazing with the incredible group sex that Fal, Kate, and I have on the regular, I also FINALLY got to meet my internet bestie Taylor J Mace of Feisty Fox Films in November! They were travelling for some sex work, and to visit one of their partners, when they stopped in to visit Fal and I for a few days.
We also all got to fuck. A lot! Which ended up also being a super affirming experience for my relationships overall. It was amazing and Fal and I already miss them terribly!
This Was the BEST Year for the Blog Yet!
With over 50 posts published and 120,000+ visitors, 2018 has hands down been one of my greatest years ever for blogging (and that's including my very successful past blogs too). In addition to seeing my readership jump from between 6,000 and 8,000 visitors a month to between 17,000 and 20,000 visitors a month, I was also included in Kinkly's Top 100 Sex Blogging Superheroes of 2018 list.
And if that wasn't all awesome enough as is, yesterday I learned that I had earned the #18 spot in Molly's Daily Kiss' Top 100 Sex Blogger of 2018!
Fucking #18, y'all!!! Holy shit!
Talk about some big fucking ups and downs. But you know what? That's life. And I fucking love mine.