CW: descriptions of internalized queerphobia.
I've always had an extremely difficult time finding lingerie that fits right for my girl cock, let alone any that FEEL right too.
From a very young age I always enjoyed wearing panties. I'd quietly buy some from a store, shame and fear of ridicule sweeping over me as I snuck a pair or two in among other clothes, but nobody ever made a stink. I mean, I definitely got looks from a few cashiers the few times I did it… believe me, yet none of them said anything. Probably because they didn't even know WHAT to say to a 14-year-old with pink cotton panties next to their khakis, pack of loose fitting boxers, and mass produced pop culture t-shirts lol.
I even wore them under my clothes to school sometimes. It was exciting! Maybe a little TOO exciting at times as I had to sneak away to a secluded space to deal with the panties induced boners that came about through the week. It was all very sexual thrill then. It really got me going and I got off to it more than anything else.
At least that's how it was at first. Over time I found myself wearing them simply because I liked how they felt, and how they looked. Often times I'd also put on one of my sibling's dresses or something too marveled at how something that people treated with such disdain could feel so marvelous, all while not at all being cognizant of trans people or identities. It was good, but also scary.
Sadly, internalized queerphobia from the other kids at school, various adults, and all of the anti-queer stuff I'd seen in films and on TV led to a lot of negative self-talk and even a degree of self-hatred for doing these things. I spent many  years crossdressing in little bursts only to become enraged with myself for doing so and forcing myself to purge any such thoughts and feelings of gender nonconformity.
Lucky for me though I eventually worked through those things and started on my long journey of self-discovery, acceptance, and love just 5-years ago. Yet as much as I've really started to find what being non-binary means to me over the last year in particular, including and slowly discovering how to feel sexy in the bedroom. Yet the one thing that's continued to elude me is a good pair of panties for my girl cock and lady balls.
Simply put, they're just not at all designed for people with a penis in mind, so, they're just not working for me.
Fast forward to just a couple of weeks ago and while I was shopping around in a big chain store, my spouse, Fal, and I came across the underwear section. However, rather than gravitating toward the "women's" section where all of the panties are, I went into the "men's" area. It was the first time I'd seriously stepped foot into a space like that since I came out in 2015, but I was desperate for something and Fal encouraged me to try something a little different than what I had be going for previously.
So I did it. I actually  fucking bought some boxers and boxer briefs.
In all honesty I got them almost exclusively because of the cute twink models on the front packaging with their smooth thighs and cute bulges. I had no expectations for my body or girl cock to look anything like them simply by wearing them, which I definitely didn't, but you know what?
They look and feel fucking fantastic!
I mean, check out that cute little bulge on me! It really is a shame that I completely ignored underwear like this for so long all because I let the labels get to me. I so wanted to not wear anything for "men" that I just leapt into another binary gendered style that didn't work for me at all.
I'm not sure how long I'll experience these gender euphoric feels about this underwear, but for now I'm relishing in them. Long live twinky boxer briefs!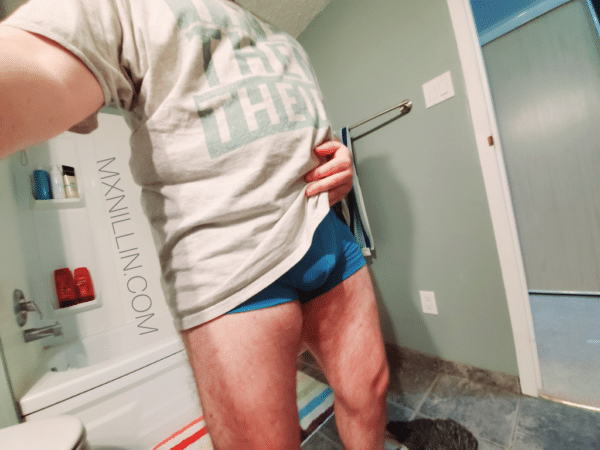 Click the logos below to see more content from trans and queer creators throughout this pride month!