Putting this quick post together because I was feeling inspired by the positive self-talk on display in Kate Sloan's "7 Bangin' Selfies" post; as part of her annual 12 Days of Girly Juice feature.
This year was pretty revolutionary for me in terms of becoming more body positive and sex positive toward myself, especially considering how intense social stigmatization and transphobia really influenced my dysphoria and general depression over these past 12-months. There were some really tough spots following experiences of public harassment, from the group of teens following me around Walmart laughing and taking photos of me, to the dude who cornered me outside my bank and told me to get out of town "or else", or the bros who called me a tranny and threw a bottle at me from their car.
But I'm hot as fuck. So, here are 13-ish of my favorite sexy selfies, and NSFW pics taken by my partner, from 2016!
NOTE: There are super NSFW pics of my fully exposed girl cock below.
#1 – Very rarely do I take full body selfies in my underwear, but I was pretty determined to get one of me that I liked. With a long mirror and selfie stick in hand, I ultimately spent nearly 3 hours snapping countless pics because my negative self-talk kept me feeling that they were all ugly. That I was ugly. But there came a breakthrough moment near the end when I was staring at myself in the mirror and I began thinking of all the complementary things that my partner, and others, have said about my body… and I started to see that too! These were the final two pictures that I took that evening, and I look fucking amazing!
#2 – Okay, so the last one and this one are kinda cheating because they are technically two pictures cut & pasted side-by-side, but this is my post so whatever! These were actually taken for a post on my original WordPress blog on coming out of the closet, sex, and having sex in closets; all framed by my first sexual experiences with my childhood friend while growing up. I absolutely LOVED how my figure and ass looked in these, and the rainbow flag right in front of me really pulls it all together, I think. That booty though…
#3 – "Wait, Nillin! This one isn't a 'sexy' pic!" Uhhhh, YES it is! This was the first time EVER that I left my house in a crop top. I didn't stay outside for long, maybe 20 minutes, and we didn't walk too far away from home but I'm proud of myself for facing my fears and doing it. If you want to wear a crop top, do it! You don't need to have a specific weight or "body type" to "pull it off". You don't need to be femme or "passing". Anyone can wear crop tops and look banging!
Also, check out the epic moose knuckle my girl cock is making. You're welcome, readers!
#4 – If you've been following me for a while then you've seen this one a few times and you know exactly why it made this list. I mean, come on. I would tap that ass, and it's mine. Unnfff!
#5 – The quality may not be the best but I REALLY love how my bra and tits look in these. Plus the cute hair and playful gaze? Hells yea, my sexy-selfie game was on point here!
#6 – One of the biggest things I tried to do with pics of my girl cock this year was to feminize it. What's so wrong with wanting my cock to be pretty?? NOTHIN'! That's what. So, whether it be from wearing some nail polish, wrapping it in a cute bow, or just giving a peek of my penis from under a lacy dress, I wanted my girl cock pics to be more than some lazy close-up of a penis. Here were some of my faves, just snapped in the tub while I was taking a soak. I love the subtle gender-fuckery going on with the shaved legs and painted nails framing my penis.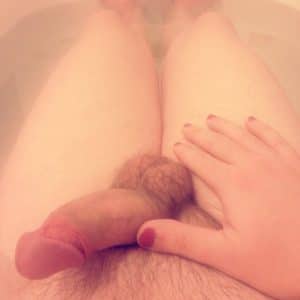 #7 – Second favorite girl cock pic of the year goes to this double set. I love taking "dick pics" where I'm just lifting skirts and dresses to tease and expose myself. It feels fun and flirty and subversive all at once. These two just turned out so damn great. I love the colors of my pink panties and green skirt. I love the way my erection looks in those panties with the little black bow on the waistband. They're just so damn queer and that's honestly what I strive for when taking naughty selfies!
Did you take many sexy selfies or nudes this year?